Home
Advantages of Barr Systems
Pumps
Instructions
DIY Threads
Order Page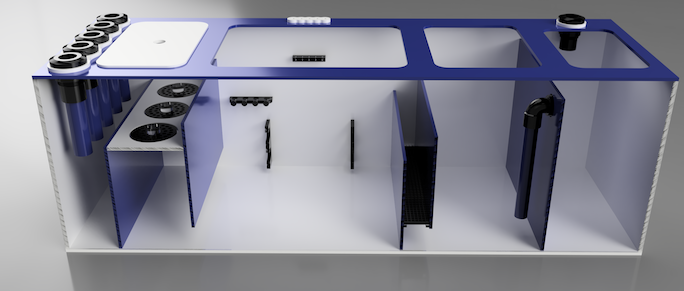 Sumps:
BAS is not currently building sumps, but thank you for checking with us.
These custom designed sumps are for the serious reef enthusiast. They can feature filter socks, probe mounts, dosing mounts, refugiums, baffles, filter pads and media reactors.
Quality cast acrylic construction with rounded and polished external edges. No sharp edges anywhere!
A 2" splash-lip is standard on larger sumps- This helps keep the water in the tank when you are cleaning up or removing algae, as well as reinforcing the sides. Larger sumps may need center braces as well.
Features:
Unlimited over/under baffles for superior bubble reduction
Four probe mounting locations
Four dosing pump tubes
1/4" to 1/2" cast acrylic construction for the ultimate in clarity and durability
4" filter socks, with silencers
Dual heater holders
Mechanical or Electrical float switches optional
Any amount of additional bulkheads available pre-installed
All sumps wet-tested for flow rates and water-fastness
Discount on reactors and skimmers when purchased with a sump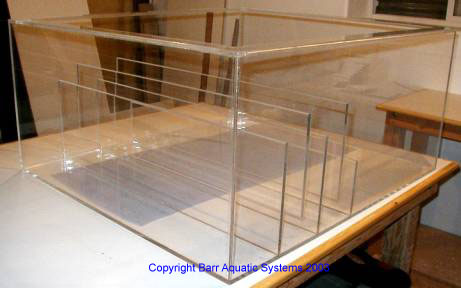 All sumps are custom made.
No extra charges for sizes different than the above.
Please email for pricing on other sizes.

The following information is requested for a good sump quote. Note that if you are unsure of the answers, I can use calculations or estimates for you.
Maximum outside length, width and height. I will choose an appropriate thickness of acrylic to match your dimensions.
Desired normal operating water level in the sump, and the anticipated flow rate. This controls the size and location of the baffles.
Number of baffles.
Location, size and number of bulkheads.
Size of the skimmer (box size plus total height), if you have one that you want to place inside the sump.
Large sumps will have a 2" minimum perimeter top, small sumps will not have one. Please indicate which you prefer for mid-sized sumps.
Do you need room for a Refugium?
Internal submerged or external (bulkhead) pump?
Connections for a Chiller or canister filter?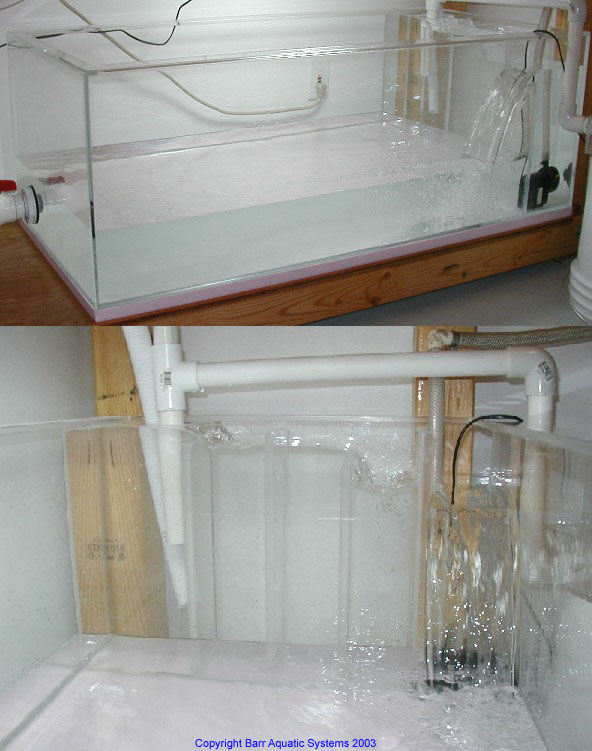 Getting setup for wet testing- Filling with water and checking the head-losses over the baffles.
Sump Size: 50x24x17" - Maximum flowrate of 1100 GPH!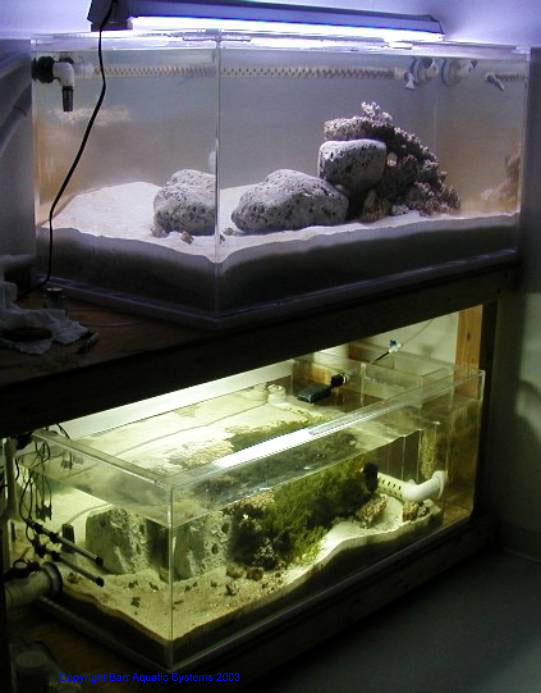 50"x24"x24" on top, 50"x24"x17" on the bottom. Bottom sump is lit by a LOA 65 watt PC.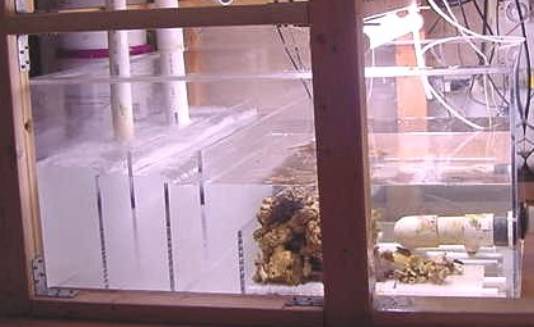 40"x36"x18" in use: This has over 4000 GPH flowing though it, but note how clear the water is on the right hand side where the pump return is.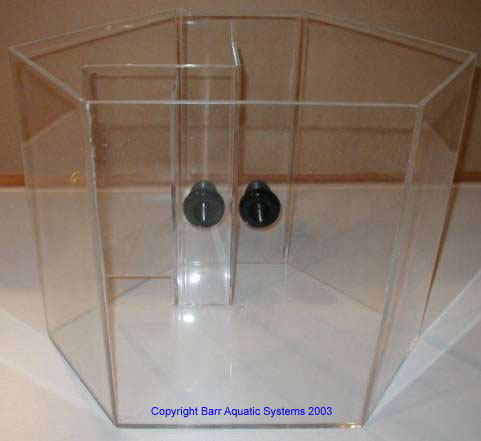 Special Order: This sump was designed for under a corner Bow Front tank. About 21"x14"x16"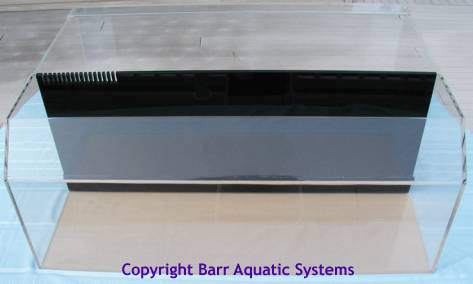 Slant front Clam Sump: 43"x29"x18"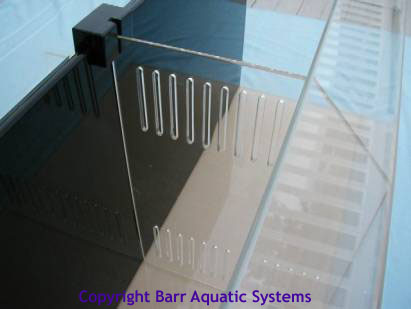 Special adjustable baffle- It can be moved to any location, or removed. Simply embed the bottom in the sand, and use the clamp on the top as shown.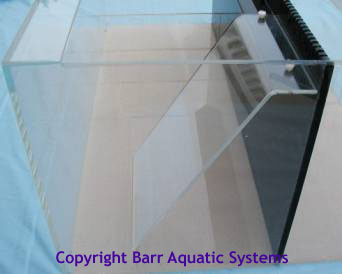 No-splash ramp- The water level In the back of this sump is only 6", so this ramp allows the overflow water to cascade down to the bottom without noise or air entrapment. Removable for adjustment or cleaning.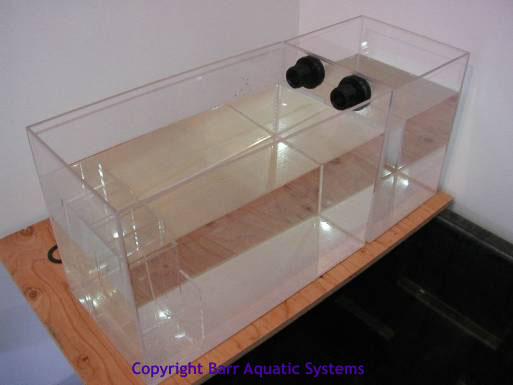 20"x11"x14", 12"x11"x14": Double Sump- Attached together with dual 1" bulkheads. This lets you fit it in to a smaller opening, yet still have a large sump.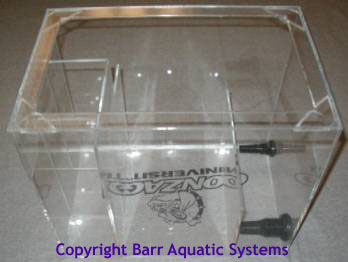 20"x13"x17": Another nice design- Multiple baffles on the left, small refuge, and sump section on the right.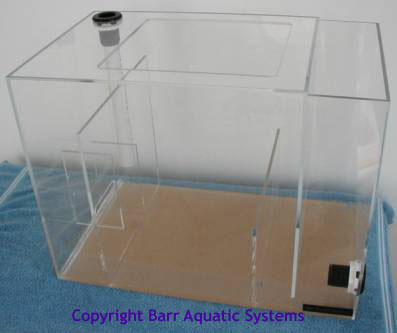 24"x14"x17": Water drops in the back left, then goes over/under/over/under to the refuge section. Another baffle pair helps remove bubbles before hitting the pump return compartment.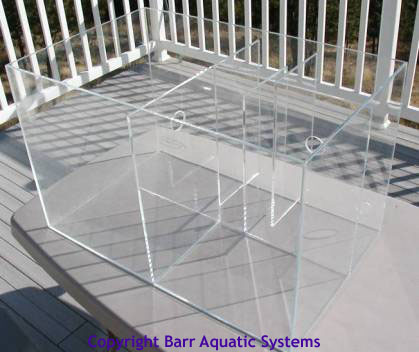 29"x18"x18": Another nice design with a large refugium section (front right), plus overflow baffles (back right) that overflow in to the refuge, as well as the skimmer and pump section (back left).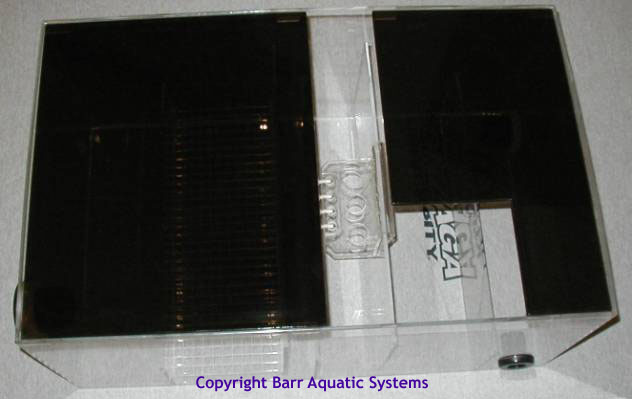 S32"x20"x14": This one is a straight left to right flow, but has a large egg-crate shelf for temporary frag grow-out, a probe holder, and smoked-acrylic tops. Also featured are bulkheads for a chiller. The cutout is for the skimmer tower.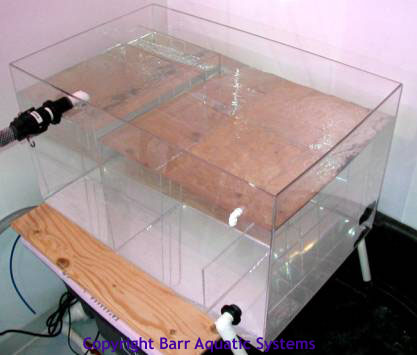 32"x20"x18": Wet testing. Water flows in the front left compartment (skimmer area) then flows over/under/over in to the sump area. Dual pump bulkheds. Testing at about 1200 gph.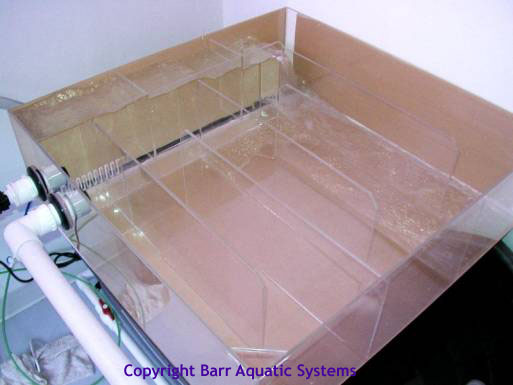 Raceway: 32"x32"x10"- Wet testing at about 1100 gph. The water comes in the left corner, then goes though 5 baffles, then traverses back and forth down the raceway making an excellent frag grow-out tank. Custom designed by JB NY on Reef Central.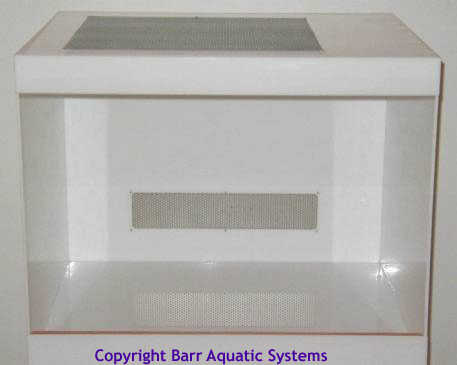 Other tanks I make: This is a snake tank, 36"x24"x24". It has sliding glass front doors, and punched aluminum venting.
---
© 2004-2018 Barr Aquatic Systems. All Rights Reserved