Waste Collectors: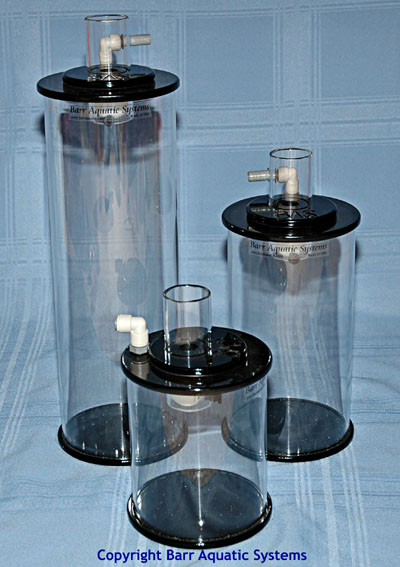 The waste collectors have a twist-lock flange, which makes it easier to clean. They also feature the highest quality John Guest hose barb input, and a new integral float chamber. These waste collectors are custom designed for a small foot-print, but a large volume. They feature O-Ring seals and a new area for placing a bag of carbon for air filtering.
The units have a float in them that closes off the air outlet when the fluid level rises to near the top. This puts a slight back pressure on the skimmer, which shuts down the foam production and prevents the waste collector from overflowing. The float auto-resets when the container is emptied.
The Waste collectors can be used with any Barr skimmer or any other skimmer that has an air-tight lid on the collection cup.
The Carbon air filter removes most all of the odor that can be emitted from a skimmer's gunk. It is a MUST HAVE for any skimmer in a living area!
Features:
Twist lock flange for easy cleaning
6"x7" tube holds up to 0.8 gallons (WC120)
6"x12" tube holds up to 1.3 gallons (WC220)
6"x18" tube holds up to 2 gallons (WC320)
1/2" hose barb or 1/2" JG Speed fitting standard, (optional 3/8" hose barb/JG)
O-Ring for the best seal
Area for carbon filter- Just drop a bag of carbon in the holder.
Auto-shutoff prevents skimmer runaways
Dimensions:
Model WC120: 6.5" x 10.5" total height
Model WC220: 6.5" x 14.5" total height
Model WC320: 6.5" x 21" total height
Shown with foam/carbon/foam (not included) installed in the air filter chamber for odor control.
---
© 2004-2018 Barr Aquatic Systems. All Rights Reserved